Products
Helping make every day healthy and comfortable for everyone.
New Products
2020-04-15
LOOK Plus Bath Cleansing Silver Ion Plus
A bath detergent that can clean the tub without scrubbing and, thanks to its silver ion formula, provide an antibacterial effect and prevent pink slime.
Fragrance

Herbal Green
Contents

500ml bottle; 450ml refill pack; 800ml large-size refill pack
---
2020-04-01
NONIO Toothpaste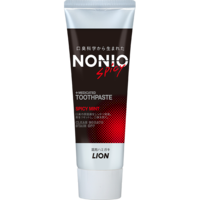 Triple action to fight bad breath! For long-lasting fresh breath.
Helps remove stains, for bright white teeth.
Flavors

Clear Herb Mint; Purely Mint; Splash Citrus Mint; Spicy Mint
Contents

Clear Herb Mint: 30g; 130g
Purely Mint: 130g
Splash Citrus Mint: 130g
Spicy Mint: 130g
---
2020-04-01
MIGACOT
Office toothbrush set created to meet the needs of working professionals
With a design that discretely complements office or other workplace environments, this oral care set includes a cup and makes it easy to brush during the workday. The breathable case helps ensure sanitary toothbrush storage.

* The MIGACOT case is also available for sale separately (without toothpaste or toothbrush).

Case

Size: 42mm wide × 191mm tall × 46mm deep
Colors: Green; Pink; Black

Toothpaste

CLINCA ADVANTAGE Toothpaste
Cool Mint 30g

Toothbrush

CLINCA ADVANTAGE Toothbrush
Four-row compact, medium firmness

---